Do you want to go back to your childhood just because you miss your favorite PlayStation 2 games? Are you unable to start your PS2 and eagerly waiting to play your game?
Instead of buying a new PS2 console and spend your hard-earned money on something that can easily be achieved using another solution and that too free of cost. It means you can still play your favorite PlayStation 2 games without any console.
Don't get surprised. It is completely true.
With the help of third-party software i.e. emulator, you can easily install and run PS2 games on different platforms. Here, the best PS2 emulator is PCSX2, which provides you the best way to get your favorite PS2 games on Windows, Linux, and macOS.
Using this emulator, you can turn the PC into PS2 and enjoy almost all games which you were once played on your console. Now, even if you don't have a PS2 console with you, there is no need to worry, as PCSX2 provides you an ultimate gaming experience which is much better than the original console.
If you are thinking of how to get a PCSX2 PS2 emulator on your Windows PC as well as how it could make you able to play your desired games on the large screen of your system, simply go through this guide and get the answer to your queries.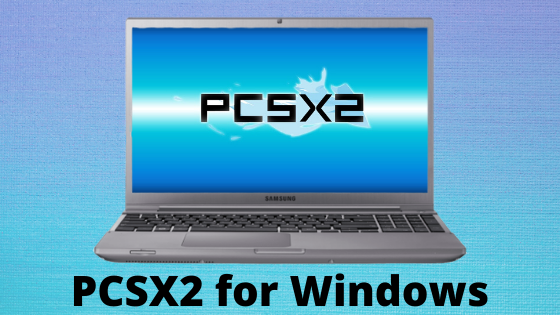 Steps to download and install PCSX2 on Windows PC
Getting PCSX2 on Windows PC is not as easy as you think, but these steps are also not as difficult as it looks like. If you follow the given steps carefully, this PS2 emulator would be ready to use on your system within a few minutes.
So, instead of wasting more time, we think we should start downloading and installing PCSX2 on Windows.
The best way to download PCSX2 is from its official website, so you can open it from the web.
Once you open it, you will find "Get PCSX2 here" on its main page which you need to click.
Now, you require selecting the Windows option.
Here, you have to choose the latest version as well as click the associated Download button.
The file you are going to download must be saved at the location as per your choice.
Now, after downloading the PCSX2 executable file, you have to use these steps for its installation.
Double-click the file which you have downloaded above.
Now, you have to select all the components so that they can be installed along with the emulator. If any of these components have already been installed, you will be notified by a message, so no need to worry in this case.
The next step is to click the Next button.
When you are going to install PCSX2, you will be asked to choose your preferred destination to install the emulator.
The choice is all yours – default destination folder or click the Browse for the chosen destination.
Now, click the Install button to initialize the installation process.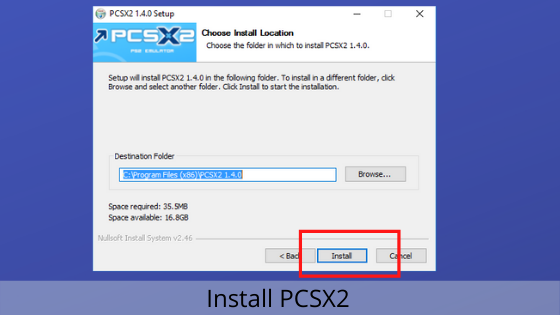 The completion of the installation of the emulator may take some time, so don't panic, it will be on your system within a few minutes.
At this stage, you will also be asked to install the components which you had checked in the above steps but had not installed them. So, click to start their installation if there is any.
Once the installation of these components will finish, the installation of the emulator will also be finished.
You will see an icon of PCSX2 at the location you have chosen while installing it.
Still, you are unable to use PCSX2 because you have to launch this executable file using these steps.
Double-click the PCSX2 icon.
Change the language if you want and click Apply.
Then, click the Next button.
It will start a scan for all the plugins.
Now, you will be asked to choose your desired plugins and here, you are also allowed to change the configuration of any plugin you want. So, select the plugin and click the associated Configure button.
Now, click the Next button.
When it is about to launch, it will ask you to choose the PS2 BIOS. It can either be extracted from your console or you can choose to download it from the web.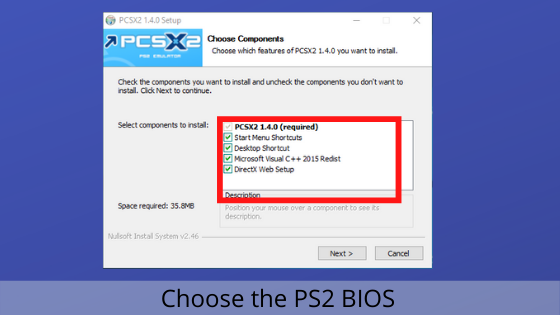 Now, you can either place the files in the emulator's default location or save them manually at your preferred destination.
Click the Refresh list button and choose the BIOS.
Click Finish.
Now, you can use PCSX2 on your PC and enjoy your games.
Wrapping Up
This guide will help you to download, install and launch a PCSX2 PS2 emulator on your Windows PC. It provides you a great way to get your PS2 games to your doorstep without the console.
So, if you are thinking of playing those childhood games again, simply get this emulator on your PC and have great fun with your friends.